Deafenstein Workshop Livestream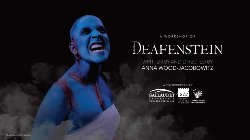 What

Deafenstein Workshop Livestream

When

11/15/2021, 6:00 PM

–

9:00 PM

Where

Livestream
An adapted classic with a deaf twist. The story of Frankenstein transformed.
Deaf sisters Danielle and Gabrielle produce a film inspired by their favorite childhood tale, Frankenstein, but are faced with their division by language and identity. Expecting a story based in truth and history, Gabrielle is shocked when Danielle unveils her dark interpretation of the mad scientist and his creation, the Creature, and his fiancee Mabel. Ultimately, the sisters navigate healing from their community's traumas, as well as their own.
During the global COVID-19 pandemic, National Theatre of the Deaf, Gallaudet University Theatre Arts and Dance Program, and Connecticut Deaf Theatre came together to co-produce a workshop of Deafenstein, written and directed by Anna Wood-Jacobowitz, mounted at Gallaudet University campus from April 25 to May 31, 2021.
Following strict safety protocol, a team of students, faculty, and guest artists were able to rehearse and film several performances of selected scenes from Deafenstein. Running for 10 performances from October 31-November 15, be sure to catch a glimpse into the Deafenstein world!
Copy to Google Calendar
•
Download iCal Event