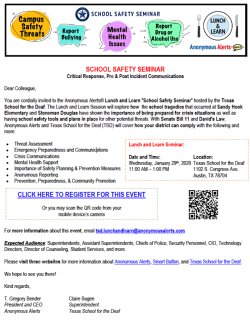 What

Anonymous Alerts: Lunch and Learn "School Safety Seminar"

When

1/29/2020, 11:00 AM

–

1:00 PM

Where

Deaf Smith Center at Texas School for the Deaf
Anonymous Alerts Lunch and Learn Session will explore how the school tragedies that occurred at Sandy Hook Elementary and Stoneman Douglas have shown the importance of being prepared for crisis situations as well as having school safety tools and plans in place for other potential threats. With Senate Bill 11 and David's Law, Anonymous Alerts and Texas School for the Deaf (TSD) will cover how your district can comply with the following and
more:

• Threat Assessment
• Emergency Preparedness and Communications
• Crisis Communications
• Mental Health Support
• Importance of Safety Planning & Prevention Measures
• Anonymous Reporting
• Prevention, Preparedness, & Community Promotion

Deaf Smith Center is located on the TSD campus. Please enter through the South Congress Avenue gate. Be ready to a photo ID. School security will direct you to the parking location.