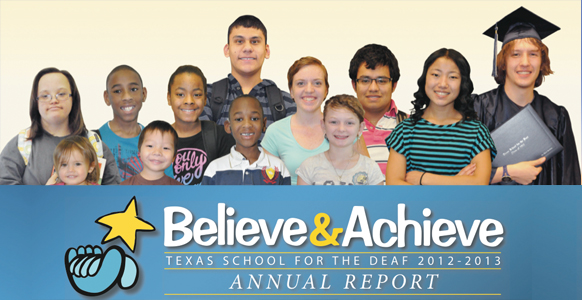 Presentation of the 2012-2013 Annual Report
Dear Community,
The theme for this Annual Report is Believe and Achieve! As a "Child First" school an important
part of our plan for success is to assess what we are doing RIGHT, what we are doing WRONG,
what we need to STOP doing and what we need to START doing. A simple rule of thumb in a Child
First school is:
YOU MUST BELIEVE THAT ALL TSD STUDENTS HAVE THE ABILITY TO ACHIEVE AT

HIGH LEVELS. IF YOU DON'T BELIEVE IT, YOU CANNOT ACHIEVE IT.
We turn to the Child First Campaign for our inspiration:
Quality Access to Language and Communication is a fundamental Human and Educational right—and we must protect this right.
Language Deprivation is Disabling---not Being Deaf.

One Size Does Not Fit All---every child's unique strengths and needs must drive his or her education
Children learn more from human social interaction and active learning than from anything else—we must focus on the whole child.
The LRE (Least Restrictive Environment) for a student cannot be a place, it must be based on the individual needs of the child and must include a continuum of options.
There are multiple pathways to language learning—our goal is to stimulate cognitive growth through instruction in multiple modalities.
Family Involvement is critical to student success—we must cultivate informed partnerships.

The LRE for our students must be language rich environment that supports engaged and incidental learning and provides a variety of peer and adult role models.
Our students have a right to instruction and support from highly qualified personnel who are proficient in their communication and language mode.
We must engage ourselves in continuous progress monitoring in order to ensure our students remain on a path to high achievement.
The 2012-13 academic year was another good year at Texas School for the Deaf. We are very proud
of the accomplishments our students have achieved with the help of an amazingly talented and
caring staff. Believe and Achieve is about thought and action and so is this annual report. I hope
you will enjoy the information on student achievement, student activities and the financial and
demographic data that helped us achieve our mission.
Warm regards,
Claire Bugen, Superintendent
---
You can read the Annual Report as a pdf: