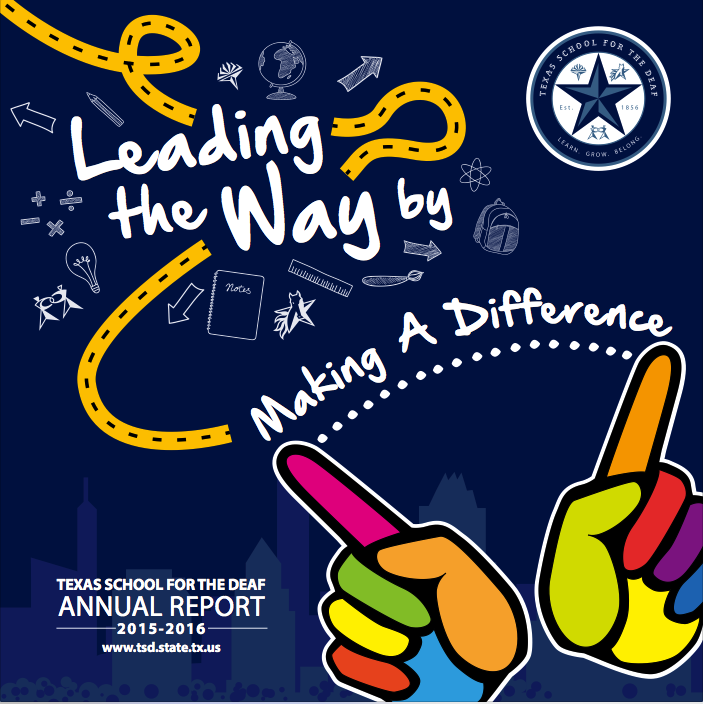 Dear Texas School for the Deaf Community,
We are pleased to present you with the Annual Report, Making a Difference, which provides key information on the 2015-2016 school year and educational milestones achieved by Texas School for the Deaf.
This report includes some of our required reports detailing student assessment data as well as general highlights of our successes.
Although the 2015-16 school year was not without its challenges cast in a series of indepth audits, reviews and general outside inquiry, the accomplishments of our staff and students in academics, the arts, athletics and accountability prevailed.
We cherish the relationships that we have with our students, staff, families, the Deaf community, our TSD Foundation, and community residents of the state of Texas. Partnerships are vital to achieving the best for our students and their success.
You won't find a more committed school to defying the odds of financial barriers, while providing the best service to all our TSD students and families. We are committed and care deeply about each student, and we understand the importance of capturing kids' hearts.
We invite you to enjoy this year in review as we continue to advance our tradition of excellence and ensure that each TSD student has a place To LEARN, To GROW and To BELONG.
Sincerely,
Claire Bugen, Superintendent
---
You can read the Annual Report as a pdf:
---